We've mentioned before that Craftsman Greg Byrus took a break from trim to be a cop for The Lee County Sheriff Department for five years. So, what does that have to do with Hurricane Irma?
Good question!
To answer that, we have to start from the beginning in this multi-part blog series.
Setting the Scene
We had a perfect baby girl in August of 2017. Just two weeks later, we were planning for potential landfall from Hurricane Irma. As Irma got closer, we realized that it would definitely be hitting SWFL. We (okay, so just Casey) decided that having a three week old newborn and their four year old, staying to brave the storm was a terrible option. We boarded up our house, took lots of pictures of our belongings, and left town. We couldn't believe it, but LCSO actually let him leave town with his family because of our newborn.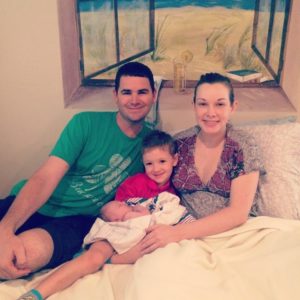 We left a lot of family in SWFL who stayed to brave the storm so on Sunday, September 10, 2017, we were glued to the news. We watched with our stomachs in our throats and hoped for the best. After the eye of the storm passed directly over our home and all was calm, we got word that our house was fine!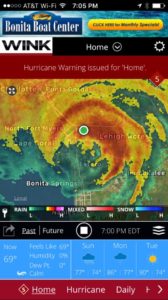 The next morning, chaos ensued.
The neighborhood was no longer fine, our yards looked like lakes and water was rising by the hour. Neighbors were out cutting the large oak trees out of our roads so that people could leave. Without doing so, everyone was trapped.
The water rose throughout the day and once it stopped rising, we heard our house was probably fine. It had only come up to the edge of the doors.
What a relief!
We packed our lives back up and headed back to Florida. As we got closer to town, we started seeing heartbreaking affects. Signs down on I75 was our first indication that things were not going to be pretty.
As we pulled up to our home, destruction was evident on the outside. What a mess! The flood was gone, but we would learn that the yard would take weeks to clean up all the debris and mess.
As we made our way to the backyard, we found our pool was… black? Yes, black! It was disgusting. Both Greg's personal truck and his cop car were flooded. He had parked them both in the backyard because we NEVER expected flooding. We only expected damage from the Oak Trees that were mostly out front. Casey's car was parked in front of the garage as a barrier (she didn't know this at the time) and it looked like someone took a pellet gun to it.
And then the Oaks. Oh, all the beautiful Oaks that were laying EVERYWHERE. There were too many to count. We couldn't believe that none fell onto the house. We are extremely thankful that our next door neighbors happen to be not only some of our best friends but Casey's sister's family, as well. Luckily with the use of their tractor we were able to clear much quicker. We had some amazing friends who came out and helped too. We are so grateful for every single one of them!
However, once we came inside, just days after Hurricane Irma, and it already smelled strongly of mold. As we began to open the house to see the inside in better lighting, we started noticing all the water stains on the baseboard. Mold was already growing on the walls. The floors were warped. The doors wouldn't shut. Our hearts sank to the pit of our stomachs.
What to do now?
You'll have to stay tuned to see what transpired next.